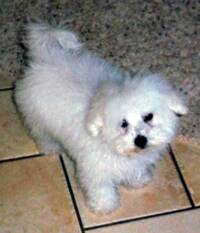 Joyce,
Hi and congratulations to Tizziana on her ARBA championship. To let you know, we are elated with our Caesar! He never stops to delight us every day. In the evening if we sit on the couch, we have a recliner on each end, Caesar sits and cuddles with one of us for 5 – 10 minutes or so, then he gets up and moves to the other, back and forth, and finally he generally stretches out between us. Guess he is sharing himself. I also want you to know that we didn't have a doggy door, so he needed to be retrained to go outside for his business. We decided to train him to ring a bell on the door. I had some old horse bells from my Dad which I hung on the door. Caesar soon learned that by ringing the bells, he got out quick. If he only rang a little and we didn't hear, he knew to jump harder on the bells. Caesar is also a big show off and loves to play, especially when I get home in the afternoon. He races at high speeds around all the furniture low to the floor so fast he can lose it in the corner and hit a wall, but doesn't slow until he has to stop for a drink. He also has taught me a new game called "hide & find me." He runs, then stops out of sight until I get too close, and then he takes off again. He is a very happy, loving puppy. I don't know how we could have live without him. In any case, please stay in touch.
– Richard W. Tripp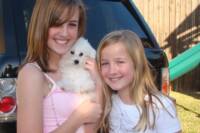 Happy New Year Joyce!!!
I'm so sorry I'm just now sending these pictures to you… It's been on my "to do" list for at least a week now! First of all just let me say a great big THANK YOU!!!!! You sent us the perfect dog for our family and we instantly fell head over heals! The girls were SOOO surprised and thrilled to say the least! We wanted to give him an Italian name and since he is such a "little lover" we've named him Romeo! I hope you're adjusting to your "empty nest"… Any new litters in the works?
I hope the New Year finds you well and is a good one for you; thanks again for our new little boy!
— Tonna, Phil, Riley and Maddie
———————————————————————————————————–
Hello Joyce,7.31.09
Romeo is such a wonderful, wonderful addition to our family! We all enjoy him tremendously! Even my husband who was "fine" with getting a small dog but sort of viewed it as a pet for the girls and I, has been 100% SMITTEN!!! It's so funny to see this 6'3" man dote over this little white fluff ball! When Romeo goes to our ranch with Phil the guys who work there like to give him a hard time about his "manly" dog, so Romeo's ranch name is Killer!!! I guess this makes him feel a little better! Ha! Romeo consistently makes us all laugh and will quickly put a smile on your face any time you need it! I don't know what we ever did without him!
Thank you again for your great service and support and for blessing us with such a sweet addition to our family!
Sincerely,
Tonna

Dear Joyce,
I've been trying to get this to you, but time goes by fast and with 3 kids it's crazy. I should say 4 including Toby :). We cannot express how much joy Toby has brought to us. We got him for a Christmas gift for our daughter. She kept asking if Santa would bring her a puppy. Well Christmas morning the fun began!!! Toby is such a good dog. I am very thankful for all the love and care you gave him before he came to our home. He is almost like a human. He amazes us. The first few days he already knew how to go to the door if he had to go potty. This was amazing because he was already trained by you to use the doggy door. When Toby plays, he looks like a baby playing, it's so cute. He sleeps on his back and likes to cuddle on the couch above our necks. He is quick and loves to go everywhere. He is a very friendly dog and loves the attention. Our daughter reads to him, dresses him up, and has taught him to high five. He has a lot of personality!! There really is a difference when someone hand raises puppies the first few weeks and then sends them off to people's homes. He took to our family just like that. Our friends are amazed how easy going and lovable he is. Thank you so much for taking care and training him. This really made things easy for us. I really think a lot of his character is due to the love and care you gave him. Thank you for everything!!!!
Blessings,
The Reiter's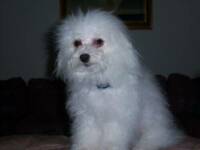 Dear Joyce and Bellissimo Bolognese,
I am writing to tell you how happy I am with my sweet little Luigi that I purchased from you. This was my first experience buying a dog and you made it wonderful.
I had searched the Internet for the perfect dog, never dreaming that I would actually find it. As you know, I wanted a small dog with a sweet disposition that was hypo-allergenic hypo-allergenic and didn't bark much. When I plugged that info into my computer, up popped a picture of Luigi and your business, and the rest is history.
When I went to meet and your dogs, I could tell immediately that these dogs were raised with loving hands. They were beautifully groomed and had excellent manners. The moment I saw Luigi, I knew he was meant for our family.Luigi had been crate and potty trained by you, which was one of my criteria, as I didn't have the time or the inclination to do it my self. He was so sweet and lovable that I knew it was a match made in heaven.
The best part of the whole experience has been that we live close enough to each other that we keep in contact on a regular basis, and Luigi gets to see his friends whenever he wants. I can't tell you the joy that Luigi has brought to my life, as I have a disease that confines me to bed most of the time, and having my sweet Luigi right next to me keeping me company is so comforting. If you ever need a reference, I would be glad to talk to anyone about my experience with you and Bellissimo Bolognese. I cannot imagine having a better experience with any other breeder and I am so grateful that I found you and my precious "Mr. Weeg", aka Luigi.
Thank you for bringing such a lovely dog to our family to love. He is as sweet as he is because of your loving hands.
Warm regards,
Paula Whelan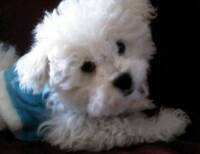 Dear Joyce,
I just wanted to say thank you again for our wonderful, playful, happy, puppy. From the moment that Luca arrived safely at the airport, we knew that he would become a new joy to our family. Luca already knew his name when he came out of that crate, thanks to you calling him Luca from the day he was born. His arrival two days after Christmas was perfect timing, since the children were home from school that week and they truly had a the time of there lives. He slept through the night after the second night, in his crate, and the crate was completely dry! Even just shy of 10 weeks old he was able to wait until the morning to do his business on the astro turf mat. The mat was perfect for those cold, snowy days we had here in New Jersey through January, but he enjoyed getting out in the snow too for some play time! After researching many breeds and struggling with the idea of raising a dog, I know we made the right decision for our family. He is the perfect size, intelligent and romps around with my ten year old son until the ten year old tires out. He also loves to sit and cuddle on my teenage daughter's lap in the evening hours when we are enjoying some family time together. Luca has given us a reason to come together as a family. My husband, who was indifferent to getting Luca, has taken him for a few walks and has been caught sitting on the couch petting Luca while he slept in his lap. Thank you for sending us a happy, healthy, truly lovable Bolo.
Fondly,
Maria Stavropoulos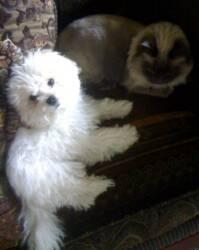 Hello Joyce,
This is to update you on Bijou. We just had him fixed and a chip put in him. He currently weighs 4 lbs 5.5 ozs. Bijou has rapidly become one of the family, from the moment he came home he melted the hearts of the entire family. His playfulness, personality, intelligence, and happiness is everything we had hoped for and much more! When he arrived, he was essentially already housebroken! Bijou and our cat play all day long and wear him out for a good nights sleep.
We want to thank you for delivering a new member of the family, he goes everywhere with us and loves traveling in his carrier taking it all in. He is everything you said he would be and much, much more!
Thank you!
John and Becky Fox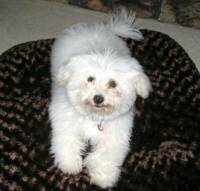 Dearest Joyce,
I wanted to write you a letter today to let you know that we have had a wonderful month! You gave us the most wonderful addition to our family. His name is Bellissimo Botticelli…..but, as you know, we call him "Bo"!
Our family…..all 11 of us (kids and grandkids)…..have fallen in love with him. He plays when we want to play, he gives his love when he thinks we need it, he snuggles when we want to snuggle, and he gives all of that to the whole family…..and some strangers!
To play, Bo fetches and squeaks his toys, and shakes, shakes, shakes them. We bought a puppy water pool and he jumps and splashes and spins in it. When he's wet, he looks his six and a half pounds, but when he's dry, he looks like he weighs twenty pounds! He makes us laugh to the point of tears!
When a person talks with someone who wants to sell them something, often what the "sales person" has to say is a really big stretch of the truth. However, everything you told us about Bo was nothing but the truth! Bo has never had an "accident" in our home…..just as you said. He was fully trained when I brought him home to Omaha, Nebraska. He "kisses" the back of my legs, my ears, my arms, and my neck. You told us he was very loving. He's just beautiful…..but I knew that from the videos and pictures you shared as we talked about Bo coming to his forever home.
He has learned so much about us…..you'd think he was human! He knows where we usually go to sit, watch TV, work, go to bed, to dress, to bathe and all…..and so there are no surprises when he wants to find us. He has our routines down! And, we have his routines down. We know where he goes to rest, to play, to "get away from it all." So, it works out great!
We've fallen and we've fallen hard!!! Our love couldn't be any stronger for our little guy Bo and our gratitude to you any more profound. Thank you so much for this happy and loving little guy.
We can't thank you enough! We'll be in touch with more pictures and videos.
Lovingly,
Sandy Peterson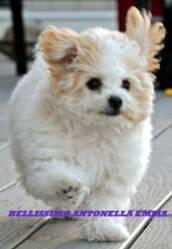 Dear Joyce,
We feel that we've hit the dog lottery! Our little Emma is absolutely wonderful! She delights us with her antics and has such an expressive personality! Thank you for traveling more than 2000 miles to hand deliver her to us and training her so well. Emma was able to peacefully sleep in her crate the very first night and finishing potty training was a breeze.
Emma brings so much joy to our family! She is always ready to play and delights in going for walks. She enjoys obedience classes and looks up at me as she heels by my side. Not only is Emma beautiful, she's also definitely eager to please and very intelligent. Our trainer is amazed at how quickly she learns. We plan to earn a Canine Good Citizen title and visit nursing homes some day. Although Emma is still a pup, she settles right down and offers an abundance of kisses when our elderly neighbor coos over her. "Of course! How could they do otherwise?".
Thanks again for sharing your knowledge of the breed and answering all of my questions during the last few months. It was evident from our first conversation with you, that you are an excellent breeder and that the loving care you provided in your home, was the foundation for Emma's excellent disposition. We are so delighted that we found Bellissimo Bolognese and you! Thanks again and again.
Hugs,
The Taylors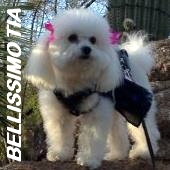 After going through a break up that wiped me completely out financially, I found myself alone in my big mansion without a dog for the first time in my life. Liquidating everything that I owned and loved, I didn't know where my life was going to leave me. I saw one picture that Joyce sent me of Tia looking up and that that moment I knew. I said to myself, "I am in trouble." The next thing I did was put a deposit down on Tia and my life has never been the same since. It's been all uphill! Tia has brought so much love and happiness to me and she truly save my life. I work as a caregiver to hospice patients. Tia goes everywhere with me, she is my little service dog. She performs and makes so many people's lives better and happier, with smiles and kisses too. Tia girl is just the best, she doesn't bark, she whimpers to go outside. She was completely housebroken when I got her. I've had probably 30 some dogs in my life and Tia is my top dog. She's the best, she's the Tia girl!
Gail Reidy,
Carefree, AZ