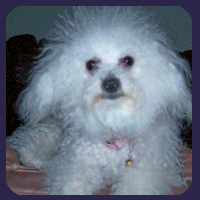 Welcome to Bellissimo Bolognese, which means Beautiful Bolognese in Italian. My name is Joyce Eisert, and I am happy to be the premier Bolognese breeder in Arizona. There are fewer than 6 reputable Bolognese breeders in the USA. I am proud to be one of those who brings you this rare and exquisite breed.
I have always been passionate about animals, but dogs are my absolute favorite. I would not know what my life would be like without dogs being a part of it. When my Bichon Frise passed on, I took a little time to research what kind of dog I would get next. On the web, I found a picture of the most beautiful dog I had ever seen. It stole my heart. I found out it was an Italian Bolognese. I could see a very confident "love me, I am so worth it" spirit in its eyes. After reading about their characteristics and special qualities, I knew the Bolognese was the breed I wanted.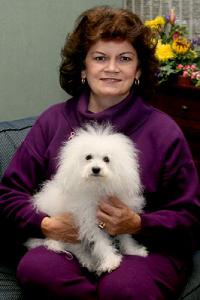 Bellissimo Bolognese started out with one female Bolognese named Tizziana. I chose to start out with one female so, I could devote my undivided attention to one litter at a time and to learning what constitutes a good breeder. I have now expanded my Bolognese family to include Evangeline, who blessed me with five fine puppies her first litter. Please enjoy their video on the Bolo Puppies page link.
All of my Bolo litters are hand raised in my family room. I take great care to see that each puppy is nurtured, socialized, and well on its way to being crate trained and house broken by the time they reach their forever homes.
This makes their transition to a new home much smoother for both the puppy and their new owner. By having the puppies so close at hand, I become very familiar with each one's personality enabling me to match them up perfectly with their selectively chosen human. We have lots of fun too. Bellissimo Bolognese puppies are often seen around Scottsdale taking rides in their stroller after they have had their second shots.
Ultimately my dream is to retire to a cooler place in Arizona where I will build my ranch house, expand my kennels, and be available for dog training also. Besides my Bolognese, I plan to have a couple of horses and my larger farm dogs, who will be chosen from a rescue shelter.
If you wish to have a happy, healthy, loving Bellissimo Bolognese puppy join your family, reservations are recommended. Please contact me to reserve your special puppy from a future litter.